Medical Pedicures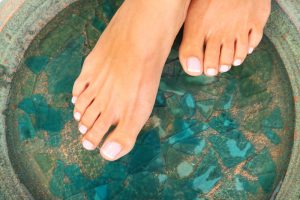 Enjoy the luxury of a pedicure treatment as well as the precise care that can be expected from a foot healthcare specialist.
Tracey can treat: Bunion ● Corns and Hard Skin ● Fungal Toenail Infections ● Gout ● Plantar Fasciitis ● Heel Pain ● Ingrowing Toenails ● Metatarsalgia (Pain in the Ball of the Foot) ● Neuroma (or Morton's Neuroma) ● Verrucas
After a warming foot bath, your nails and feet will be treated as required and massaged with oil and cooling exfoliator, to revive the skin and strengthen nails. Next is a lymphatic massage of foot and lower limb, finished with a polish of your choice or extended massage for the gentlemen.
Also available:
Foot Healthcare Appointments (only)
Manicures – Express and Luxury
Click below link for more information and full brochure:
Nunn So Special As You with Tracey Nunn – Woolpit Complementary
Tracey is currently available on an ad-hoc basis by appointment only. Please call either Tracey or Woolpit Complementary on 01359 408 011 to find out availability for treatment.
Treatment
MediPedi - Initial Consultation and Treatment

55

MediPedi - Subsequent appointments

45

Foot Healthcare only

30

Manicures

25-35