Introduction
Services
Practitioners
Timetable
Skin Treatments
At Woolpit Complementary, we understand that facial problems can cause a great deal of distress a lack of confidence. With that in mind, we have a number of facial treatments available for all ages, skin types, male and female.
Treatments currently offered are Facial Acupuncture (see Constitutional Facial Acupuncture) and specialised organic facials.
Organic Facials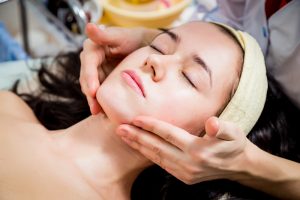 Our Therapists Anna Norris and Tracey Nunn uses Neal's Yard products; an ethical and natural brand made with a wide array of organic plants and herbs.
With a range of products to suit differing skin types, treatments are tailored to your needs making your facial unique to you. Facials also include a face, neck and scalp massage using the principles of Manual Lymphatic Drainage to encourage a full detox. Expect relaxation and fantastic results.
  You can call us any time between 9am – 6pm Monday to Friday or 10am – 3pm each Saturday 01359 408 01How long will a treatment take and how many do I need?
Please see the services tab for durations as they vary considerably.
The frequency and number of treatments will depend entirely on the consultation and
the recommendation of your practitioner. 
Some sessions require a patch test, to ensure that it is safe for you 
to have the treatment.
It is free to arrange and must me done close to the time of your treatment.
What do I wear?
Depending on the treatment, loose and comfortable clothing is advised.
You will likely be asked to remove items of clothing for Dr Hauschka treatments or Electrolysis if the area of focus is located on the body rather than the face.
Is it covered by private health insurance?
Not currently.
If I am out of work, a student or retired – do you offer concessional rates?
Yes, this is discussed and offered at the practitioner's discretion.
Treatment
Organic Facials with Anna Norris or Tracey Nunn (1 hour)

45

Express Organic Facials with Anna Norris (40 mins)

39
Meet 1 practitioners in Woolpit Complementary