This page is intended to provide transparency and advice for clients and practitioners by detailing how we are managing and adapting to COVID-19.
Below are links to our current risk assessment, COVID-19 policies for practitioners and clients, as well as our posters and mandatory questionnaires.
Current services available in clinic and online as of 25.09.20
| Available in Clinic | Available Online |
| --- | --- |
| Acupuncture | Personalised Nutrition |
| Reflexology | Counselling & CBT |
| Holistic Massage incl. hot stone | Hypnotherapy |
| *Counselling & CBT | |
| *Hypnotherapy | |
| | |
*Online sessions are encouraged where possible.
NHS Covid-19 App
If you have downloaded the NHS Covid-19 App, you are able to check-in at Woolpit Complementary by scanning our QR code poster in reception. If you need help finding and downloading the app, click the link below to follow guidance from the NHS website.
https://www.covid19.nhs.uk/help-downloading.html
Risk Assessment
Policies
Questionnaires
Use of Masks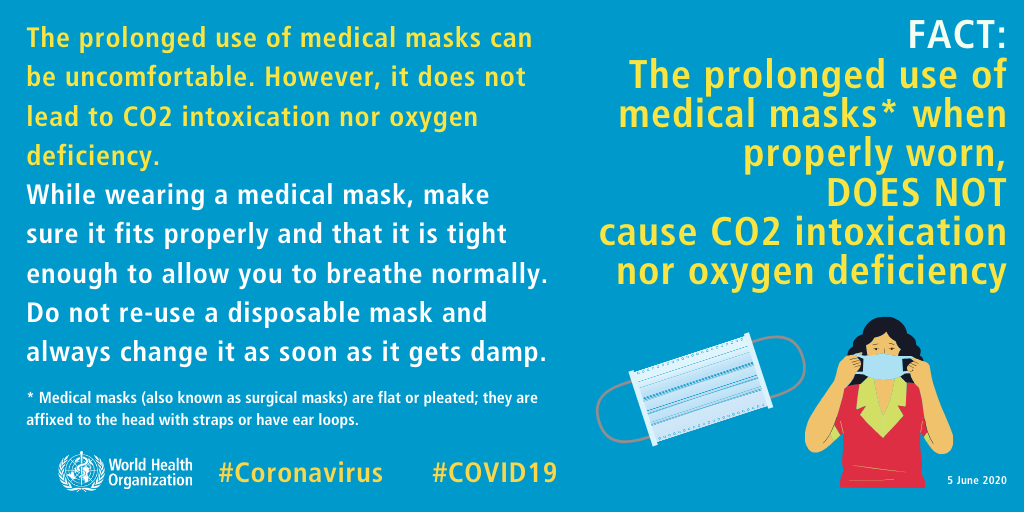 If you are unsure about using face masks (medical or home-made), this is a link to a very clear podcast produced by the Lancet that explains how recommendations have been made, based on the evidence available to us all.
https://open.spotify.com/episode/3INu3yqHOEQVCXjcPo2fRu?si=udJrWa4vSHeivOql-69oig
In short, they are protective in all settings and although there is variability between the types of masks worn, there is still a significant protection when comparing wearing and not wearing a face covering in community settings.
Posters You Will See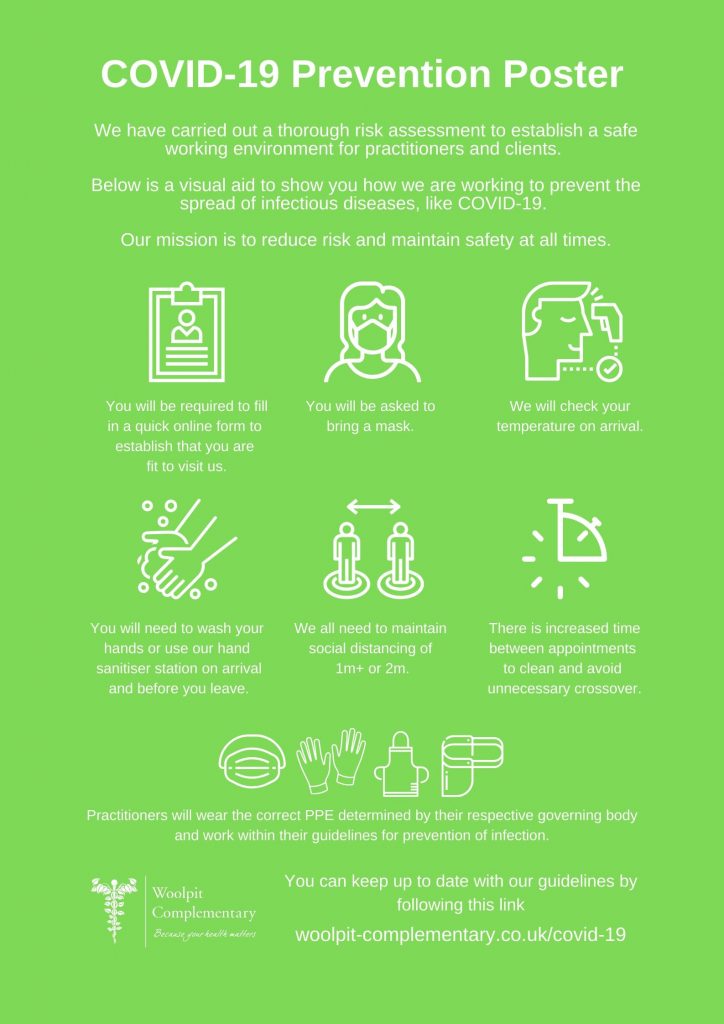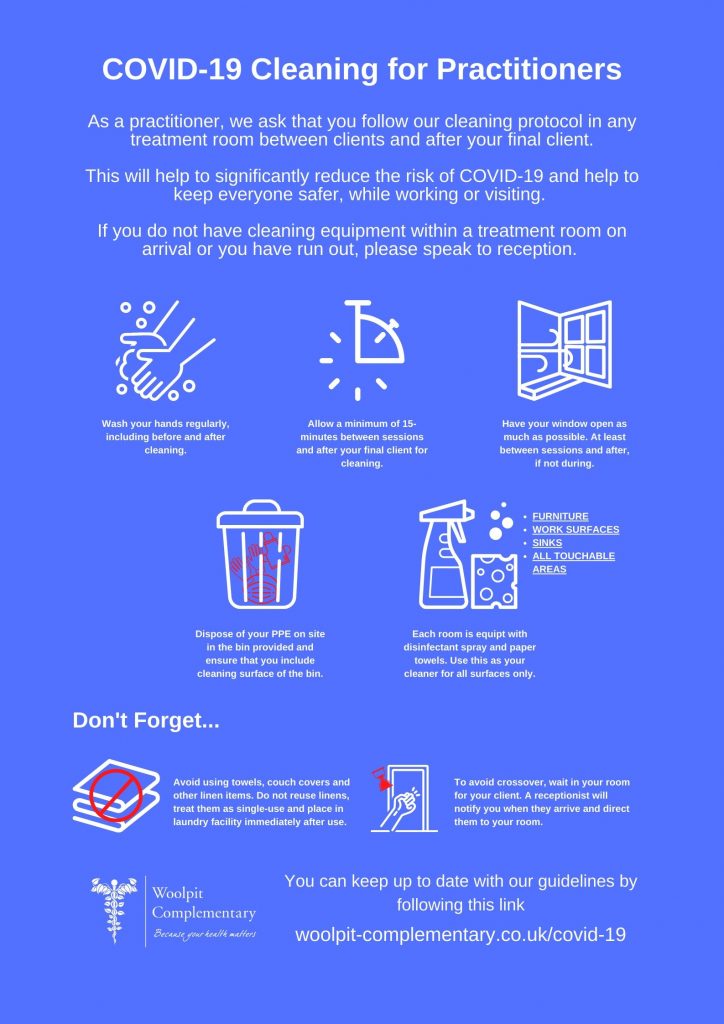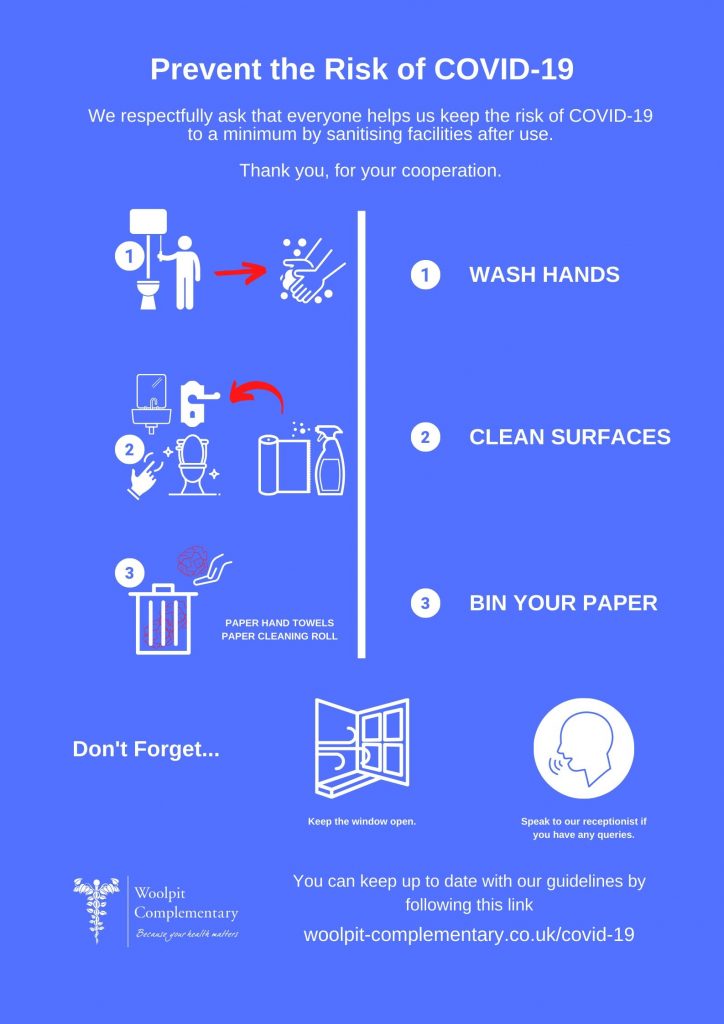 We are working within government https://gov.uk/coronavirus and WHO guidelines https://covid19.who.int.
This page will be updated any time there are changes to government guidelines and as we re-assess our requirements on a monthly basis.
[last updated 25.09.20]